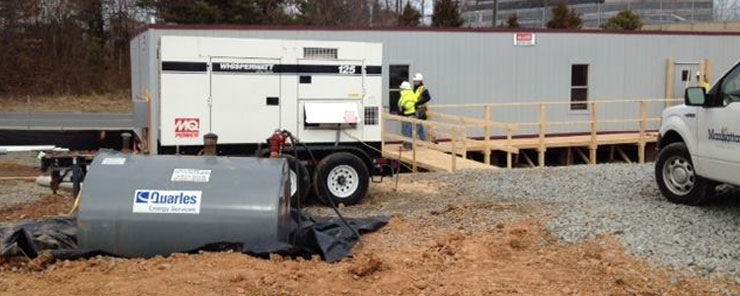 If you need to run a Construction Trailer or an entire building, Temp-Power has been there. Our fleet consists of Trailer mounted and Portable generators from 3000 to 500,000 watts. They offer quiet power and excellent dependability, making them ideal for any job site. We also carry various cables, temporary panels, A/C units, heaters, light towers, light balloons, and currently expanding on-site fuel deliveries in propane and diesel fuel. We offer various fueling options for the diesel generators that we rent in Virginia, Maryland and Washington D.C. primarily. Give us a ring if you have any questions or don't really know where to start: 703-330-3663.

Power Considerations
Many rental companies will rent you whatever size generator you may ask for without asking you the important questions. The result is over or under sizing the generator for your job, which could end up costing you more than it should for rental fees and fuel. Since Temp-Power specializes in Generators, we'll make sure we provide you with an optimally sized Generator, because we understand your application and the loads each generator can handle.
Useful Information
Temp-Power provides temporary power for a variety of clients. These include home builders, commercial contractors, homeowners and the special event industry.
Things to Consider When Sizing & Placing Your Generator
+
We are dealers for the following equipment
+
Service and Repair Advantage
+
Temp-Power strives to provide 100% customer satisfaction